IMPRESSIVE 5 FACTS OF KIT HARINGTON & ROSE LESLIE'S WEDDING
(AKA John Snow's Wedding)
The Game of Thrones (GoT) is a very popular Television series which premiered on April 17,
2011 on the Home Box Office (HBO). It has since completed seven seasons which ended on
August 27, 2017, and is due to end with the eighth season which would premier in 2019.
The Game of Thrones brought Kit Harington and Rose Leslie together to be lovers on the screen where the latter played the character of Ygritte from season two to season four. The former played the character of Jon Snow Their onscreen love blossomed to an off-screen fairy tale.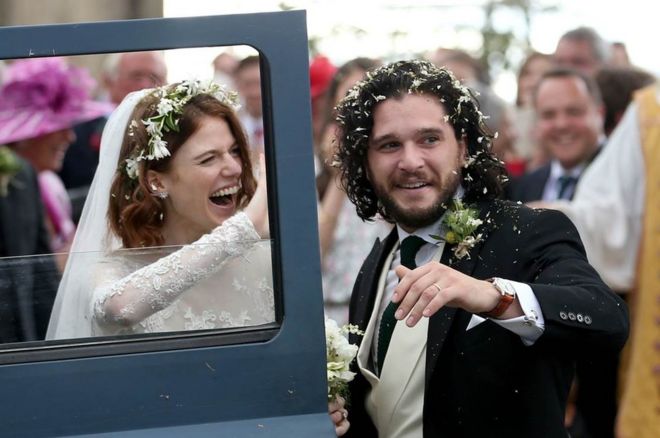 #1. Met on the sets of Game of Thrones
Love stories that have been filmed in front of the camera and later over time blossoming into real life love behind the camera have been numerous. This time around it is Kit Harington and Rose Leslie who have been struck by Cupid's arrow. Their off-screen love affair was kept under tight wraps all through the time the filming was in progress.
#2. Engaged in September 2017
In September 2017 the couple broke the ice and announced their engagement which had to be made official as they were to be married in 2018. The wedding day was kept a closely guarded secret. Since the engagement, Rose Leslie had moved out of the series but Kit Harington still continues and they have been said by everyone to be "made for each other".
The engagement was officially announced on the impending weddings notice board in
Scotland but nobody made the connection and did not know till; the day dawned.
#3. Wedding in Scotland
Everybody was taken by surprise when the wedding took place on Saturday, June 23. 2018 in a sprawling castle in Aberdeenshire, Scotland. The setting for the wedding was romantic and many relatives, friends, GoT actors and crew along with many others attended the wedding. This 12th-century castle belongs to Rose Leslie's family and was the perfect setting for this much looked forward to the wedding.
#4. Game of Thrones shut down
The Game of Thrones production which is underway filming the season seven had to be shut as many of the stars were at the wedding. Kit had telephoned the Director and told him that production would need to stop as he was getting married and the latter had no choice.
https://www.radiotimes.com/news/tv/2018-06-24/kit-harington-and-rose-leslie-enjoy-game-of-thrones-wedding-where-nobody-dies/
#5.Royal bloodline
An interesting detail about Kit and Leslie has surfaced that they are indeed related by
bloodline to King Charles II of England. Through Kit's paternal grandmother, Lavender Cecilia Denny, Kit Harington's eighth, great grandfather was King Charles II of England.
Rose's mother is Candida Mary Sibyl "Candy" Leslie (nee Weld) of Clan Fraser, maternal great-granddaughter of Simon Fraser, the 13th Lord Lovat and a descendant of the same King Charles II of England.
We wish the new couple Kit Harington and Rose Leslie, A VERY HAPPY, BLISSFUL AND A
LONG WEDDED LIFE FILLED WITH, LOVE AND PEACE.